TICKETS GOING FAST FOR THIS YEAR'S CAR DEALER CONFERENCE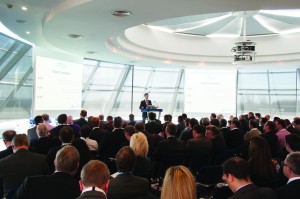 Preparations are well in hand for this year's Car Dealer Magazine Conference, to be held at Rockingham Motor Speedway, Corby, on Friday, June 20.
This year, the event has been branded 2020 Vision as delegates will be given an insight into the way the automotive industry will evolve and develop over the next six years. The team at Car Dealer have assembled an impressive and influential list of speakers.
Google will be giving a presentation on the future of intelligent search and how customer research is changing. Attendees will find out how they can stay ahead of the competition by offering better search options on their websites.
Lawgistics will be giving advice on how changes to the Sale of Goods Act will affect car dealers. The company will also be advising delegates how not to get caught out by the distance-selling directive.
Performance Communications will be hosting a session on countering the threat of negative publicity and how to manage PR in a crisis.
CAP will be sharing its vision of why data will be even more important in the industry in the future and explaining how dealers can make the most of this.
Kia president and CEO Paul Philpott will explain how the company turned its operation around in the UK. And Sun Motors will be sharing its vision of the future of online car advertising.
But that's not all. The day of the conference will also feature an expo involving more than 40 exhibitors who will be sharing news about their latest innovations and products.
And there will be two breakout sessions too: one for the future leaders of the car sales business, and an invitation-only VIP event for those who featured in Car Dealer's recently-compiled list of the top 100 Twitter users in the motor trade.
Some lucky delegates – those whose names are pulled out of a hat in a prize draw – will get the chance to drive all-American NASCAR racing cars round the famous Rockingham circuit, thanks to the presence at the event of Russell 'Rusty' Wallace, a legendary former champion of the sport.
James Batchelor, editor of Car Dealer, said:
'With just a few short weeks to go, this year's conference is shaping up to be our best yet. Anyone interested in coming along would be well advised not to delay as spaces are filling up fast.
'We're tremendously excited about the addition of NASCAR legend Rusty Wallace to our line-up of activities on the day and of course, as well as the speakers, we will be staging the biggest expo of its kind in the UK. And what's more, the whole thing is FREE!'
To book your free tickets, go to bit.ly/CDCtickets